BBC series scoops 2012 Reporting Europe Prize
Congratulations to Jane Beresford and Allan Little (BBC) who were awarded the annual UACES Thomson Reuters Reporting Europe Prize at a ceremony in London on 24 May 2012.
They won the prize for their BBC Radio 4 series 'Europe's Choice' which aired on 5 – 19 February 2012.
Beginning with the fall of the Berlin Wall in 1989, the three-part series traces the key decisions that brought Europe to the current crisis. Through interviews with leading figures, the programme reveals the mixture of naïve optimism, flawed economics, and figure-fudging that has led to bailouts and banking disasters.
Paul Adamson OBE, member of the jury and Editor-in-Chief of E!Sharp Magazine commented:
"The series created a compelling and informed narrative on the situation in which the European Union now finds itself. It took pains to talk not only to expert commentators in the UK but informed players in other European countries. All this with an exquisite clarity and accessibility for the enjoyment of non specialists. The programmes give you a laudably rounded understanding of the current dilemma of Europe."
The full broadcast is available to listen to on the BBC website.
Watch videos profiling all of 2012's shortlisted nominees: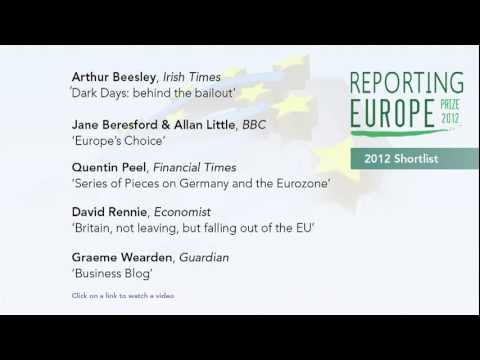 For further information on the prize, visit: www.reportingeurope.eu